Goex FFFFg Black Powder 1 lb
$29.99
Smokeless Powder, Black Powder, Primers, and Fuses ship from our warehouse with other products. This ensures no more than one Shipping Charge and one HazMat Charge per order (unless you also order products that Ship Separately from MidwestPowders or our Suppliers). Each order is limited to no more than 25 pounds of Black Powder, and no more than 66 pounds each of Smokeless Powder, Primers, or Fuse. Smokeless Powder, Black Powder, Primers, and Fuses are considered hazardous materials, incur HazMat Charges, and can only ship ground freight within the continental U.S. Due to safety considerations and legal/regulatory reasons, Smokeless Powder, Black Powder, Primers, and Fuses cannot be returned.
Compare
Buy Goex FFFFg Black Powder 1 lb Online
Product Overview
Goex FFFFg (or 4Fg) is suited for Priming Powder for Flintlocks. While Goex has improved manufacturing processes and material quality, they have manufactured black powder using traditional materials to provide the same great ignition characteristics and uniform speed that master shooters and hunters have relied on for over 200 years. Goex Black Powder is available in different granular sizes to tailor performance to a specific firearm. From FFFFg (smallest) to Cannon (largest), Goex has a granulation size for your firearm.
Warnings from the Manufacturer:
Do not exceed the loads displayed in the reloaders guide.
Never mix any two powders regardless of type, brand, or source.
Never substitute any smokeless powder for Black Powder or any Black Powder substitute.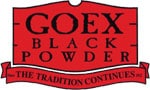 Made In United States of America
Specifications
Product Information
| | |
| --- | --- |
| Quantity | |
| Country of Origin | |
1.180 Pounds